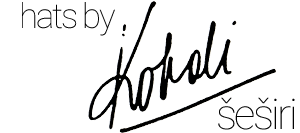 GDPR - Privacy Guidelines
1. Introduction
1.1 We are the KOBALI, obrt za proizvodnju, trgovinu i usluge, ILICA 5 (OKTOGON), 10000 Zagreb, OIB: 22880929436, IBAN: IHR7023600001100738911.
We are committed to protecting and respecting your privacy.
1.2This privacy policy (and any other document contained herein) is the basis for our processing and use of all personal information about our supporters, potential backers and visitors (collectively, "backers") of our site http://kobali.hr / (the "Website") that we collect from them, that they provide to us, or that we collect from third parties. Please read carefully our Privacy Policy to understand our practices regarding personally identifiable individuals and how we will treat them.
1.3 For the purposes of the Law on the protection of personal data (Official Gazette 103/3 to 106/12, hereinafter: the Law on the protection of personal data) and General Data Protection Regulation (EU) 2016/679 of the European Parliament and of the Council of 27 April 2016 ("GDPR"), we are head of data processing with headquarters at: ILICA 5 (OKTOGON), 10000 Zagreb
1.4 We abide by the Personal Data Protection Act and will abide by the GDPR after May 25, 2018 in connection with the collection, storage, storage, use and processing of personal information about our backers (this personal information is stored manually and electronic records).
1.5We may change this Privacy Policy from time to time. In this case, post the changes on this page and they will apply from the moment we publish them. Individuals should check the site frequently to see any amendments or changes to these Rules. This privacy policy was last updated on May 23, 2018. years.
2. The personal information we collect
2.1 Personal Information
(a) We collect and use the following personal information about our backers:
(i) personal information such as:
•name and surname;
•mailing address;
• telephone numbers (home, business and mobile, as appropriate);
• e-mail address (s);
• preferred contact method;
• information provided during registration to use or fill out our website;
• information on donations made;
• information provided by our backers - for example, when making donations, such as bank account information to establish a regular debit card, credit card information for making a credit card payment, employer information for a permanent payroll order, or taxpayer status for gift purposes help;
• information provided when using our website; and
• information provided when participating in the activities of the Association on social media or its website.
(ii) the marketing preferences of our backers, and information on whether and when consent was obtained or withdrawn to receive marketing communications.
(iii) correspondence between our supporters and us (whether by telephone, electronic mail or otherwise).
(b) We also collect and use certain technical information about our backers' visits to our site, which may include, for example, Internet Protocol (IP) addresses, as well as login information, browser type and version, pages visited, downloaded files, full Uniform Content Locators (The "URL"), tracking clicks to, from and from our site (including date of time), products viewed or searched, page response speed, typos, length of visits to specific pages, and information about interactions on the page (such as browsing, clicks and mouse over the screen).
(c) Some of the personal information listed above is collected directly by the endorser, and some from third parties (for example, we may receive personal information from the endorser when making a donation through a third party website, the endorser has given consent to the third party website to share information with us) .
(d) Supporters do not have to disclose personal information to us in order to search our website or to use our social media sites, but they do need to provide us with certain personal information in order for us to provide them with certain services.
3. How we use personal information
3.1 We receive, collect, record, preserve, store, organize, adapt, modify, renew, review, detect, destroy and otherwise use the proprietor's personal information, as set out in this Policy, to protect the privacy, with the consent of the proponent, for the following purposes :
(a) to provide the products, services and information to the backers they request from us;
(b) for correspondence with backers and records of all relevant notices;
(c) to send marketing information to our backers;
(d) to keep records of donations made and actions taken by our backers;
(e) to receive donation aid;
(f) to support volunteers;
(g) to record the support activities of the campaigner;
(h) to fulfill our obligations under all contracts we enter into with backers;
(i) to notify supporters of changes in the provision of our services;
(j) to ensure that the content on our site is displayed in an effective manner for backers and their computers;
(k) to maintain our Website and internal business, including troubleshooting, data analysis, testing, research, statistics and survey needs;
(l) to improve our website to ensure that the content is displayed in the most effective way for backers and their computers;
(m) to enable supporters to participate in the interactive features of our services; and
(n) to keep our Website secure and secure.
4. How we share personal information
(a) if we are required by law to do so, for example, under the law or order of a competent court or
(b) with the consent of the backer, for the purpose for which the backer gave his consent, or
(c) in cases provided for by law, or
(d) for the purpose of protecting the life or physical integrity of the backer or other person in the event that the backer is physically or legally unable to give his consent, or
(e) if the processing of data is necessary for the fulfillment of tasks carried out in the public interest or in the exercise of public powers which we have
(f) if data processing is necessary for the legitimate interest of us
(g) for the purpose of entering into and executing the contract in which the supporter is a party
(h) if the backer himself posted this information, we will not sell the backer information. We will not share information with supporters other than those listed above.
5. Legal basis for processing personal data
We use a variety of legal bases to justify our processing of backers personal information. Further details on this are set out below.
(a) Supporters have given their consent for the processing of their personal data to the specific purposes previously stated. Supporters may withdraw their consent for this processing at any time so that they can be contacted using the contact information provided in the "Contact and Complaints" section of the continuation of these Privacy Policy, however, this will not affect the legality of any processing of their personal data that was carried out prior to their withdrawal of consent.
(b) Processing is necessary for the purposes of our legitimate interests. These legitimate interests include processing, packaging, sending and delivering purchased products, answering questions about us and any services we provide, conducting research or analysis that contribute to our mission of making credit card payments.
(c) Processing is necessary to perform a contract in which the parties are relevant backers; (d) Processing is necessary to us as a data processing manager to fulfill our legal obligations, such as sharing personal information when we are legally required to do so, for example, by law or court order.
6. Where we transfer and store personal information
6.1 All information provided by the backers is stored on our proprietary servers and / or on the servers of our vendors that we have hired to maintain various information systems for us. All payment transactions will be encrypted using TLS Technology. Where we have given our supporters (or where they have chosen) a password that allows them to access certain parts of our site, they are responsible for keeping that password confidential. Please do not share this password with anyone.
6.2Unfortunately, the transmission of information via the Internet is not fully protected. While we do our best to protect the backers' personal information, we cannot guarantee the security of data uploaded to our site; backers take the risk of the information being transmitted. Once we receive personal information, we will use strict procedures and security features to try to prevent unauthorized access.
6.3 Our mission is to enable people to donate their money, their goods, their skills, their time and their prayer. We will keep information on supporters as long as they cooperate with us in any of the following ways, and as long as we need them:
• (a) to maintain their relationship with us;
• (b) to comply with the law; or
• (c) to ensure that we do not contact the backers who asked us not to do so.
As part of supporting this process, we will regularly check the personal information of the backers we collect and store to ensure that this information is only stored for a specified period of time.
7. Personal rights
7.1 Supporters have certain rights regarding the personal information we hold about them. To exercise any of the rights set out below, please contact us using the contact information provided on the "Contact" link below of this Privacy Policy:
(a) Access. At the request of the backers, we will confirm the processing and use of personal data by them and, if so, provide them with access to that data and a copy of it and other information to which they are entitled.
(b) Correction. At the request of the backers, without undue delay, we will correct any four-point and supplement any incomplete personal information (and provide additional notice) that we hold about the backers.
(c) Preventing processing that could cause damage or agitation. We will respect the rights of our backers upon request to suspend or not initiate processing of their personal information for certain purposes or in some way that could cause unjustified harm or harassment, either to the relevant individual or to a third party.
(d) Deletion. At the request of the backer, we will delete personal data concerning them unnecessarily delayed in certain circumstances (for example, if, inter alia, their personal data are no longer needed for the purposes for which they were collected or otherwise used).
(e) Restriction. We will restrict the processing of the personal data of the backers in certain circumstances (for example, if they consider their personal information that we hold to be inaccurate) if they ask us to do so.
(f) Data portability. We will respect the rights of the backers to obtain their personal information which they have provided to us in a structured, commonly used and machine-readable format, and in certain circumstances to freely pass on this personal information to another data processing manager.
(g) Right of complaint. We will respect the general rights of supporters to oppose the personal data of the person in the circumstances.
(h) The right to object to marketing. We will respect the rights of the supporters regarding the use of their personal information for direct marketing purposes. In particular, we will not initiate or suspend the processing of all personal data of individuals for direct marketing purposes unless at any time individuals request us not to do so.
(i) Automated individual decision making, including profiling. If requested, we will not make decisions based on automated processing, including profiling, and we will ensure that you can always get an overview of all the automated decisions by one of our staff members and that you can express your views and challenge all such decisions.
We will not make any automated decisions based on sensitive personal information unless we have received your express consent that we may do so or if otherwise necessary for substantial reasons of public interest under applicable law.
7.2 We will process all personal information in each case in accordance with the rights of the backers only to the extent required and in accordance with applicable law (including, without limitation, in accordance with any applicable time limits on claims and fees requirements).
7.3 We will respect the rights of supporters regarding the use of their personal information for direct marketing purposes. In particular, we will not start or suspend the processing of all personal data of individuals for direct marketing purposes if at any time the backer asks us to stop.
7.4 Supporters may exercise their rights by contacting us using the contact information provided in the "Contact and Complaints" section of this Privacy Policy below.
8. Contact and complaints
8.1Questions, comments, requests and complaints regarding this Privacy Policy and / or the use of personal information of the Supporter please send to: CONTACT or mailing address:
KOBALI, obrt za proizvodnju, trgovinu i usluge
ILICA 5 (OKTOGON)
10000 Zagreb
8.2 We are not a 'public authority' as defined in the Right to Access to Information Act (Official Gazette 25/13 and 85/15), and therefore we will not respond to requests for information submitted pursuant to that Act.